Greetings from the Philippines! We're here! It feels so good to be on ground again. Flying to Manila is one looonnnnggg day. Over the next week, I hope to post almost everyday about our trip. We won't get to meet Levi until Tuesday so until then we plan to keep pretty busy getting out and about. Sorry if the posts are long, but I want to be able to document as much of our trip for Levi in the future.
August 5th/6th
Our drive to the STL airport on Wednesday morning didn't start off very well. Shortly before we left the house, I took my Malaria pill since we are supposed to start taking them 2 days before we arrive. Because I can't swallow pills, I have to break the capsules open and dissolve them in liquid. As soon as we started driving I got extremely sick to my stomach almost immediately. Wes was able to pull over on the side of the road so that I could take care of business. Luckily, it was extremely foggy so hopefully all the cars passing us didn't recognize me or know what I was doing. I have decided that I don't think I will do the Malaria pills, but instead cover myself in bug spray everytime we leave the hotel. It sure beats throwing up.
When we arrived at the airport, Wes had to walk through security 4-5x as he kept setting off the beeper everytime. Flustered he left his wallet, watch and sunglasses in one of the security bowls. Not sure how we both managed to not pick these items up. Luckily at the same time he realized that he was missing these, the airport intercome announced, "James Collins, we have some things at the security gate that we think you may really need." Knowing they had his wallet, they were asking him for his picture identification...glad they could joke about it.
My ticket at the boarding counter beeped when scanned and at first my heart sunk when they first told me that they had given up our tickets to someone else...but had
bumped us up to Business Class! I think the others in business class seats must have known this was our first time to sit in these seats as we were the only ones to order a Bloody Mary before 10:00 am. Hey, they were free and we were on the start of our "vacation". Jared, you would be so proud of Wes. He ordered a Budweiser product, but they only had Miller products, so he got a Sprite instead. No Budweiser products on our flights, just thought you would want to know. (My brother is a sales promoter with Budweiser so our family tries to be faithful.)
On our first layover, we called the girls and found that Papa had removed the training wheels from Jaidyn's bike and she was riding without them. Grandparent's work magic! We can't wait to watch her ride when we get back.
To those who will be traveling to the Philippines in the future, I am not going to lie...The Minneapolis to Tokyo flight was completely exhausting. We flew economy and it was miserable. Tight, cramped seating with only about 2 inches of recligning. Wes and I tried wine with dinner hoping it would put us to sleep, but no such luck. We didn't sleep at all during the flight and at that point we had been awake for an entire 24 hours. Here is a little exert from my journal, "Wes and I just looked at our watch as we are timing our 12 hour flight to Tokyo and realized that we are not even half way there. Only 2 1/2 hours in. I am trying so desperately to fall asleep as my eyes are watering because I am so tired, but just can't get comfortable. I can see the business class seating just up ahead-what was I thinking booking economy seating? Fluffy, reclining big chairs, yummy dinners of fruit kabobs and icecream, and each individual has their own personal tv. We are stuck watching an old rerun of Frazier." A crossword puzzle and 2 suduko puzzles entertained me to the 1/2 way point. Mom, you would be proud of my puzzle skills although I could have used your help on the crossword puzzle.
I did manage to finally fall asleep on a bench once we arrived at the Tokyo airport for about 25 minutes. I also slept through the take-off on the flight to Manila. Wes and I took turns sitting by the window on the Manila flight so that we would have a place to lean our heads.
The flights did feed us very well. Rice and chicken was one of our choices for every meal. I even had Chicken and rice for breakfast, which was a first. So much food was served during our flights that we didn't even need the snacks packed in our carry-on. Bread, salad, fruit, desert was served with the main entree every meal. Good thing I had a human garbage disposal next to me so I didn't feel like I was wasting so much food.
A typhoon was somewhere during our flight to Manila so we experienced some pretty good air turbulance, which didn't set well with my stomach. Wes turned all of the air jets on me and luckily I was able to get through it. I know, what you all are thinking...I am a wimp!
We took the hotel shuttle to our hotel and finally arrived around 12:30 am. We were going to take an airport taxi to the hotel, but when we asked we were shuffled towards the airport shuttle area, which was actually a taxi car anyways. The ride was CRAZY to say the least. They have lanes, but don't use them. Our driver rarely used his blinker, but instead would just honk his horn and then fly around another driver. We almost side swiped a huge bus, but somehow our driver managed to manuever us through the cement wall and the bus. Wes and I had our seatbelts on tight in the backseat and I am shocked that the driver wasn't even wearing his. I had been warned about Manila driving, but until we experienced it we really didn't get it. The hotel shuttle rates were 975 pesos which I think was a lot more than a taxi would have charged, but at that point in the trip, we just wanted to crawl in to a bed. We opened our room door and instead of the king bed with a crib that we had requested we had two twin/full size beds. It was fine for the night since Wes and I were glad to be sleeping in seperate beds as we had plenty of snuggly time sitting so close together on the 20+ hour flights. They are supposed to move us later this afternoon to another room.
August 7th
Not sure why, but we woke up around 6:00 am. Excited to start the day, I guess. We ate breakfast in The Jeepney hotel restaurant (part of the package stay). It was deicious and buffet style. My favorite thing was the fresh juices. I think they must have been made from a juicer. They were so much better than the overprocessed, sugary juice drinks that I am used to. Wes loved the salmon and fried rice the best. I can't wait for breakfast tomorrow and definitely won't be starving while we are here. Ha!
We walked the streets just outside of the hotel this morning just to observe the morning traffic. Everyone was very friendly considering the city atmosphere and the fact that they were all more than likely going to work. It was not at all like St. Louis and the "not-so-friendly" attitude that people in the city seem to give. We passed lots of people and I didn't see another blond and trust me, I was looking for one. I am sure we stuck out like a sore thumb. I have also noticed that all of the women were wearing panty hose with their skirts. In my opinion, it is way too hot and humid here for pantyhose. In fact, I don't even own a pair. The shopping experience is also quite interesting. In every area of the ShoeMart shopping center, the staff were all dressed exactly alike. There are tons of staff members. and every time we turn a corner, we would hear "Good morning Mam, Good morning Sir". It is almost like having a personal shopper right at your side. It seems that they don't want you to take anything off of the shelves. They are right there to grab it for you. We were also looking for some outfits for Levi today and everytime I turned a corner, I got asked, "What size?" You can imagine the looks that I got when I said "I really don't know what size he is". In the toy store, we were followed almost as if they thought we were thieves. They followed us down every isle. We didn't hang out in the toy store very long. Weird???
Later this afternoon Wes went and worked out in the hotel gym and I took a nap, a long 4 hour nap. I was so tired that I skipped lunch and anyone who knows me well, knows I rarely give up an opportunity to eat. :)
For dinner tonight we went to the Makati Hard Rock Cafe. Our waiter was very friendly and gave us lots of suggestions for our stay while we are here. Wes and I both bought a souvenier shirt, but I am thinking that we will try not to wear them on the same day so we don't look like a dorky tourist. We then cruised around the Glorietta Mall. It was so busy!
Our first day thoughts of the Philippines:
-All of the staff in the hotel, shopping centers, and restaurants are extremely friendly.
- The few people that we have told that we are here to bring home our son have told us that he is one lucky little boy. We however, feel that we are the lucky ones.
- Everyone is so tiny. I am as tall as most of the men. Wes is a good head taller than the general Filipino public. I also noticed that there are very few people who would be considered overweight.
- The Nalagan's warned of us the heavy pollution. I have to agree as there is a consistent smoggy feeling about the air and a distinct smell.
- Too much traffic, lot's of people, just a very busy place. It makes me appreciate the small one little stop light town that we live in. :)
I think tomorrow we are going to take a taxi to Manila Bay and Rizel Park. Hope the rains don't spoil our fun. That reminds me, we still need to purchase an umbrella.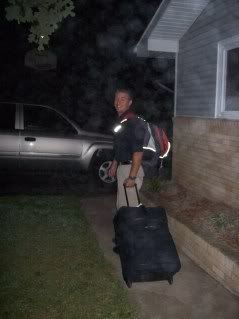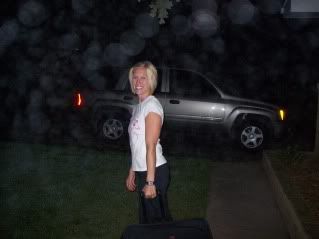 Bags are packed and we are leaving for our drive to the airport.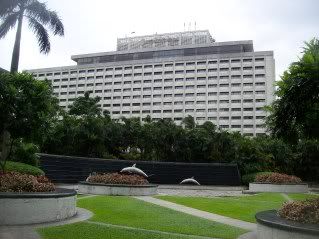 The Intercontinental Hotel that we are staying at for the week.
A walk around the block from our hotel.
Busy morning traffic.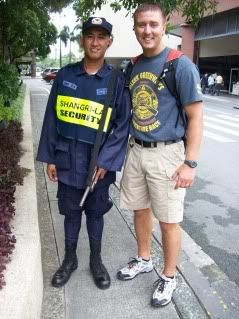 Hotel security officers hang out on several street corners. Wes was quite impressed with the guns they had strapped on them.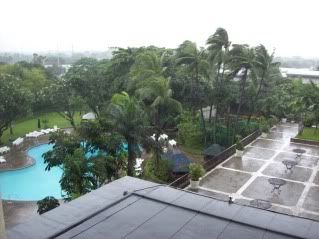 View from our 1st hotel room window.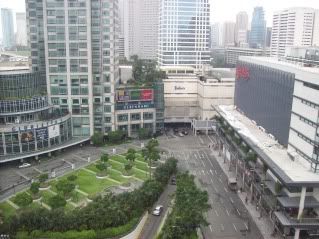 View from our current hotel room window.
Makati Hark Rock Cafe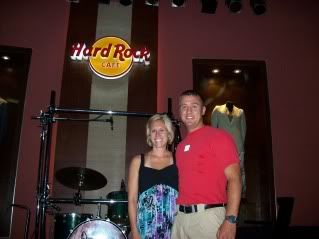 A Gold's Gym in the Glorietta Mall. Wes just couldn't help himself and had to pose beside Arnold Swarteneger.
Filipino's love Micheal Jackson too. Many people were gathered around the 2 large TV screes watching MJ videos and there was also a big memorial sign next to the TV's in which people could sign.