This past weekend I took Levi and the girls to the lake house. While the girls loved it as usual, I am not sure what Levi thought about the weekend. There was just so much to take in. He wore his life jacket, but it almost swallowed him. I left the upper portion unzipped just so he would have some more space for his little face. We went to Captain Ron's which has a beach area outside of the restaurant so that he could play more easily in the water. He didn't want to walk out in it, so we instead sat in the sand and played. Levi didn't want to wear his sun hat, but since he is lacking in a little bit of hair on top of his head, we kept trying to distract him to place it back on his head and also covered his head in sunscreen. He did conquer the stairs inside the lake house. He kept watching us go up and down them and it didn't take long before he decided to follow us. Now that he can get up them, we will really have to work on him learning how to get on his belly and slide down them.
Poor guy! His life jacket is just a little too big! It is so hard to find a comfortable one for his size.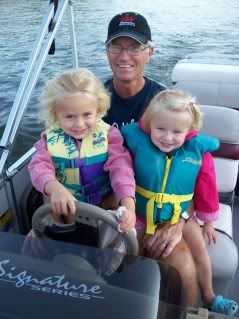 Jaidyn thinks she is the Captain of Papa's ship. Jaidyn and Addy both fight to see who gets to sit on Papa's lap and drive. Jaidyn's getting very good and even knew our way home on the water the other night.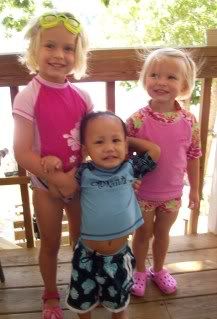 Levi did not want his picture taken, but I couldn't resist. They were all too cute in their swim outfits.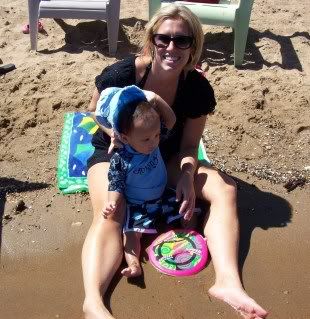 Sitting in the sand. Levi is once again trying to pull his hat off.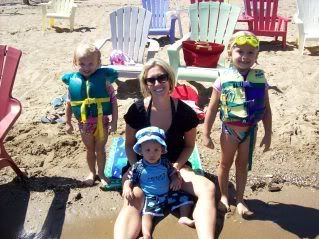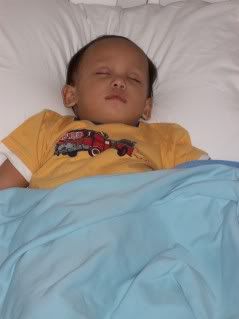 All the lake fun and sun will drain you...he is on his 2nd nap for the day. He did take 2 naps a day at the orphange, but since we have been home, we usually only do one early in the afternoon.